About D.K.Hari & D.K.Hema Hari, Founders, Bharath Gyan
D.K.Hari and D.K.Hema Hari, a husband – wife duo of Management and IT professionals, are the founders of Bharath Gyan, a civilizational study initiative to compile and present the knowledge of India, its traditions, its culture, its global ties – in short, its ethos, from an Indian perspective.
Early Life
Hari hails from a traditional Indian family, with its roots in Kancheepuram, the silk, knowledge and temple centre of the south.
Hari did his schooling in Rishi Valley School, Madanapalle, Andhra Pradesh, graduated in Commerce from Madras Christian College, Chennai and completed his post-graduation in Business Administration from P.S.G College of Technology, Coimbatore.
He has over 20 years of industry experience in marketing, brand building and supply chain through family owned businesses in Petroleum and FMCG verticals as well as from the Building Material industry.
D.K. Hema Hari is an IT professional turned researcher in Civilizational Studies and a Conceptualizer cum Founder of Bharath Gyan along with her husband D.K. Hari.
Hema was born in Mysore, grew up and was educated in Mumbai, got married into a traditional family hailing from Kanchipuram and has settled down to live in Chennai with her husband in a joint family.
She graduated in Physics and later did her post graduation in Computer Technology as a topper from Bombay University.
She is a PMI certified Project Management Professional with over 20 years of experience in the IT industry with the first 10 years at TCS and next 10 years at CSC India, focussed mainly on managing Innovation and nurturing new technologies for multinationals worldwide.
The entire family, based out of Chennai, is engaged in community service in the field of healthcare, education and culture.
Motivation
The Hari couple have travelled extensively to over 30 countries and visited museums, expositions and other attractions worldwide to understand those civilizations, their culture and knowledge.
It was this exposure that motivated this husband-wife duo of management and IT professionals to leave their lucrative professional careers, to turn into research collators, to conceptualize and to found "Bharath Gyan" as an endeavour to fill the void in the showcasing of the knowledge, practices and culture of the Indian civilization across the millennia.
Approach
They collate information on the knowledge in India through the ages and disseminate it for suitable appreciation and application.
Their method to collating this knowledge is purely driven by questioning. Allowing questioning to lead thought and search has yielded this collection, which is again presented through questions and answers, using multimedia technology for effective sharing of information and grasp. Their compilation currently runs into close to 500 hours' worth of multimedia content.
With factual content on 108 different subjects on the state of knowledge in India, its traditions and its sustainable practices compiled with dedication, over the years, since 2000, the Hari couple have evolved into subject matter experts on the overall understanding of India across ages from over 8000 years ago to the present.
Their USP is the range and depth of data they present on the Indian civilization from the perspective of India and Indian ethos.
As Speakers
Hari and Hema Hari are widely sought after as speakers on the Indian Civilization across India and the globe, to wide audiences ranging from the research community, to educational institutions, to Corporates, social organizations and in various conferences on technology, management, history, tradition, culture and religion.
They have given over 250 joint talks in India and abroad on diverse subjects to wide audiences viz
International conferences including

Civil BRICS,
Pravasi Bharatiya Divas,
World Sanskrit Conferences,
KAICIID Interfaith Conferences organized by the Vatican, King of Saudi, Austrian Govt,
World Ramayana Conferences,
Conferences on Mahabharata,
Conferences on Veda, Cosmology, Science, Technology and Spirituality
International Women's Conferences,
Ramayana Conferences for Tour Operators in Sri Lanka etc.

Research institutions eg. Indian Institute of Technology (IIT), Indian Institute of Sciences (IISc), Indian Space Research Organization (ISRO), Coast Guard, Hindustan Aeronautics Ltd (HAL)…
TED conducted talks
Educational institutions, both private and public funded schools and colleges, various University Departments, UGC Faculty Refresher Courses etc.
Corporates
Professional bodies such as Project Management Institute (PMI), Madras Management Association (MMA), FICCI Ladies Organization (FLO), Madras Bar Association etc. and
Social Forums, Organizations and NGOs in the field of Water, Agriculture, Education, Women's Empowerment, Ancient Knowledge Systems etc.
They are the Knowledge Partners for the Bharat Ko Jaaniye Quiz conducted by the Ministry of External Affairs for the Indian diaspora.
The Compilation
Their approach to studying the Indian Civilization focuses on the following aspects of the Civilization.
| | | | | | | |
| --- | --- | --- | --- | --- | --- | --- |
| Geography | Historical Timeline & Timekeeping | Commerce, Economy, Prosperity & Management of Resources | Societal and Governing Practices | Intellectual Pursuits | Cultural Expressions | Connects with other Civilizations |
| Boundaries, Extent, Topology etc. | From Veda, Rama, Krishna, Mahavira Jaina, Buddha, Adi Shankara, Alexander and later periods | Water, Land, Vegetation, Mines, Trade and Navigation | Law, Admin, Social Org, Gender Balance, Religion etc. | Sciences, Technologies, Spirituality and Education | Arts, Crafts, Festivals, Celebrations and Traditions | Japan, China, Russia, America, Europe, Arabia, Egypt, Greece, Israel, Iran, S.E.Asia |
Major focus areas of the compilation, based on the Indian Civilization's success stories include,
Stress on Water Harnessing as a solution for regions of the world, which have periodic, short seasons of rainfall like the monsoons of India.
Showcasing the relevance of Nature and Organic Products based industry, as positive influencers of Economy and Lifestyle in tropical countries to keep Economy, Ecology and the Populace in good health.
Highlighting the issue of Virtual Water trade and the arising global imbalance
Stress on a paradigm shift from Gender Equality to Gender Complementary as the natural Mantra for restoring the Gender Balance in society
Tracing the early history and timeline of the Indian civilization, prior to the Alexander era.
What is Culture? Significance of Cultural Diversity and Secret of Harmony In Diversity.
Highlights among their research and publications include 2 sets of trilogies on Rama and Krishna. For, as historical personages of the 2 Itihasa, historical woks - Ramayana and Mahabharata, Rama and Krishna define the corner stones to pegging the timelines and history of this civilization, besides being the fulcrum of faith and devotion, Bhakti in India.
It is important to understand their historicity not in isolation but wholistically wrt each other as well as a host of other historical personages of India like Buddha, Mahaveera, Adi Shankara and others, which is what has been done in the integrated research of D.K.Hari and Hema Hari as part of their Bharath Gyan compilation.
Historical Rama
To ratify the historicity of King Rama and the timelines for the rule of Rama and the building of the Nala Setu / Rama Setu, the bridge between India & Sri Lanka using a rational and interdisciplinary approach spanning Literature, Geography, Archaeology and Archaeo-Astronomy.
Ramayana In Lanka
To ratify the historicity of Ravana and the incidents of Ramayana and thus Rama too, from a Lankan perspective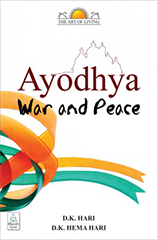 Ayodhya – War and Peace
To trace the history of Ayodhya, the capital city of Rama's kingdom as well as the lineage of Rama from after His times to present day
Historical Krishna, Vol1 – Dating of Krishna
To ratify the historicity of Krishna and set the timelines for the time when Krishna walked the earth and took part in the Mahabharata war.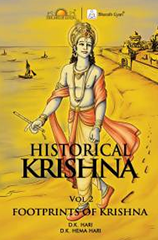 Historical Krishna, Vol2 – Footprints of Krishna
To ratify the historicity of Krishna using the geographies that Krishna walked through.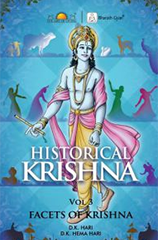 Historical Krishna, Vol3 – Facets of Krishna
To ratify the historicity of Krishna from the larger than life legends and image that Krishna has lived through in our memories.
Works
Based on their research, they have authored till date, 27 books and produced 5 documentaries as well as many short films that span a wide spectrum of disciplines, such as:
Creation - Srishti Vignana (a book on the science of Creation from Indian thought in English and Tamil)
Understanding Shiva (a book that explains the Shiva Tattva in English, Hindi and Kannada)
A trilogy on Historicity of Rama

Historical Rama
Ramayana In Lanka
Ayodhya – War and Peace

A trilogy on Historical Krishna

Dating of Krishna
Footprints of Krishna
Facets of Krishna

You Turn India (on the secret behind the prosperity of India for millennia, in English and Hindi)
Indo-Japan A Connect Over Millennia (on the ties that these 2 ancient civilizations have shared across the times, in English and Hindi)
Indo-Russia A Connect Over Millennia (on the ties that these 2 ancient civilizations have shared across the times)
Telugu Talli – Her Unknown Side - Facets of Telugu Culture and Prosperity (in English and Telugu)
2012 – The Real Story (that shows the connect between India and ancient America)
Triple Eclipse 2009 (that presents an intriguing side to the phenomenon of 3 eclipses occurring back to back within a month in the decade between 2009 to 2019)
Documentary Films

Historical Rama (Film in English, Hindi, Tamil and Kannada)
Creation – Srishti Vignana (Film in English and Tamil)
Understanding Shiva (Film in English)
Wonders of Indian Astronomy (Film in English)
Ganga – Bhagiratha Prayatna.
They have published a monumental series called the "Autobiography of India" comprising of many multi-volume titles, of which, 2 titles, spanning across 9 volumes have already been released.
Brand Bharat (A 5 volume title about how India was perceived by the world as a Brand for many things in the past and how it can position itself as a Brand in future too)

Made in India (Of Products made and traded from India to make India a brand)
Roots in India (Of Concepts rooted in India and adopted worldover to make India a brand)
Unique to India (Of Signs that can still be seen in India)
Leads from India (Of Influences that India had over the world, as a Giving Civilization)
Future from India (Of Expectations from India for the Future, as a Giving Civilization)

Breaking The Myths (A 4 volume title about the various myths that have also shrouded people's perception of India and what the reality is)

About Identity (delving into what made up India and Indians)
About Society (delving into aspects of Gender Balance, Social Caste System, Education system, Religions of India)
About Prosperity (delving into the wealth generation practices of the land)
About Ability (delving into resources of the land, skills of the civilization and how they were both put to use in a sustainable manner)

And, to show the continuity from the ancient to current, they have penned 2 works on the transformation in the style of Governance in India.

Knowing New India – A Transforming Story
Atal Bihari Vajpayee – Beacon For New India
All these books have received Benedictory notes from Gurudev.Sri Sri Ravi Shankar of Art of Living.
They have also received Forewords from stalwarts and experts in the respective disciplines, such as from,
Justice M.N.Venkatachaliah, Former Chief Justice of India, Supreme Court for the book, "Historical Rama"
Mr.Kalaiselvam, Former Director General, Sri Lanka Tourism Development Authority for the book, "Ramayana in Lanka"
Sri. K.Parasaran, Padma Bhushan & Padma Vibhushan Awardee, Member of Parliament (Rajya Sabha) and Former Attorney General of India for the book, "Ayodhya – War and Peace"
Dr.Y.Sudershan Rao, Chairperson of Indian Council of Historical Research (ICHR) of Ministry of HRD for the trilogy of books "Historical Krishna"
Dr. Madhavan Nair, Former Chairman ISRO for the book, "Creation - Srishti Vignana".
Dr.R.Chidambaram, Principal Scientific Advisor to Govt. of India and Dept of Atomic Energy for the book, "Understanding Shiva".
Dr.Zeyno Baran of Director, Centre for Eurasian Policy, Hudson Institute, Washington DC, USA for "Will History Repeat Itself, Triple Eclipse 2009" Book
Dr.Akkineni Nageswara Rao, Padma Vibhushan Awardee, Dadasaheb Phalke award recipient and Doyen of Telugu films for the book, "Telugu Talli – Her Unknown Side"
Prof. Dr.S.R.S.Varadan, Padma Bhushan and Abel Laureate in Mathematics for the book, "Brand Bharat - Vol2, Roots in India."
Shri. Prakash Padukone, Padma Shri and Arjuna Awardee for Badminton, for the book, "Brand Bharat - Vol2, Roots in India."
Dr.M.S.Valiathan, Padma Sri, Padma Bhushan, Padma Vibushan, Cardio Surgeon and National Research Professor for the book, "Brand Bharat - Vol4, Leads from India."
Dr.Vijay P Bhatkar, Padma Shri, Padma Bhushan, Chancellor Nalanda University for the book, "Brand Bharat – Vol5, Future from India".
Shri. Prakash Javadekar, Hon. Minister, Ministry of Human Resources Development, Govt of India for the book, "Breaking The Myths – Vol4, About Ability".
The published works from this scholarly duo can be accessed at
Book - www.sattvastore.com
eBooks - www.bharathgyan.com
Articles - bharathgyanblog.wordpress.com
Short Films - youtube /bharathgyan
Documentary film DVDs - www.sattvastore.com
Awards and Recognitions
Honoris Causa Doctorate, Ph.D to both D.K.Hari and D.K.Hema Hari by Sri Sri University on September 5, 2019 for 2 decades of research in Civilizational Studies and publishing many books, films and writings.
Shri. B.R.Haran Memorial Award on August 14th, 2019
Visalakshi Award from the Art of Living in Benagluru, on February 23rd,2018 for their pioneering efforts to repurpose ancient knowledge for the modern age.
Opinions on their work, from prominent persons in society, including those from

Dr. A.P.J.Abdul Kalam, Former President of India
Mr.Amitabh Bachchan, Iconic Actor
Pujya Sri Pramukh Swami ji of Swami Narayan BAPS,
Swami Dayananda Saraswathi, Founder, Arsha Vidya Gurukulam,
are available on the website www.bharathgyan.com .
Social Contributions and Other Interests
D.K.Hari is a well-rounded personality with multiple interests and social contribution.
Besides this research and dissemination activities, D.K. Hari is also part of the board of management of various institutions such as:-
Hindu Mission Hospital – a 220 bed, multispeciality, charity hospital in Tambaram, Chennai
Valluvar Gurukulam – an educational foundation imparting quality and wholistic education in an affordable model to over 3500 children in Tambaram, Chennai
SDNB Vaishnav College for Women, Chromepet, Chennai.
K.V.Sarma Research Foundation – a foundation working for the publishing of ancient and still unpublished manuscripts of India
Bala Vidya Mandir School, Adyar, Chennai
Bodhi Dharma Dojo Foundation and
Dakshina Chitra – a heritage centre in Chennai.
D.K.Hema Hari is an accomplished vocalist in the Carnatic school of music having learnt under eminent musicians such as Padma Vibhushan Smt.D.K.Pattamal and Sangeeta Vidwan Shri. Alathoor Panchapakesa Iyer.
She brings a good understanding of technology with innovation and creativity in solutioning and is also part of the board of management of
K.V.Sarma Research Foundation – a foundation working for the publishing of ancient and still unpublished manuscripts of India
Bodhi Dharma Dojo Foundation and
The Akshaya Vidya Trust, Ranipet.
The Hari couple serve as Guest Faculty with Hindu University of America and Sri Sri University.
They are actively in touch with the youth and public through social media such as Facebook, Twitter, YouTube and Blog with everyday posts on the relevance of the day.