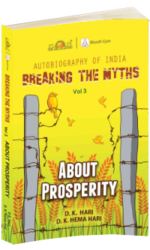 Identity lies in our roots.
Also is the root of our strength.
Little wonder, people crave for identity.
Learn of the biggest identity theft in all history.
Accomplished by a heap of lies, a mountain of myths.
This volume of Breaking The Myths, "About Identity", is focussed on laying threadbare, facts regarding our origins, our race, our ancestry, our land and our identity, in the light of commonly held perceptions of India, by India and by the world at large.
Released by  Gurudev Sri Sri Ravi Shankar Ji in Bangalore, 19th September 2017